Polish racking and storage products manufacturer Arcom has grown rapidly in recent years, and is now targeting retreaders around the world with its range of high-quality storage solutions. We spoke to Sales Manager Marcin Smulski who talked to us about the company's history, its current business goals and how it has been dealing with the challenges posed by the Covid-19 pandemic.
Polish Company Looks for Growth in Tyre Industry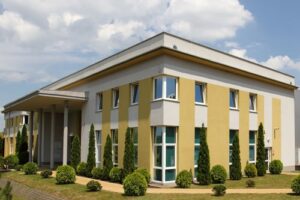 The Arcom company was established in 1996 and was founded by two partners, Artur Wilk and Robert Zięba. At that time, the automotive market in Poland was developing rapidly following the fall of the Iron Curtain, and new businesses were springing up inspired by Western examples.
Commencing with the production of racks for personal use, the company benefitted from demand on the Polish market, and was soon able to introduce a range of flagship models based on standard solutions and dimensions available on the market. Over time, thanks to the company's qualified engineering staff, Arcom managed to introduce improvements in the construction of racks and obtain important certificates thanks to which, after Poland joined the EU, the company's products were able to be successfully offered on foreign markets.
In 2008, the company moved to new headquarters and grew significantly, consistently expanding its production and warehouse facilities, introducing modern solutions in the field of cutting and processing, such as automated welding robots and high-performance laser technology.
Today, Arcom has over 150 employees, 5 lasers, and a modern machine park that allows it to produce high-quality and safe products. The company's portfolio includes around 300 different types of steel products. The diversification of sales has also enabled Arcom to enter into other industries.  Apart from the tyre sector, the most important are automotive (pallets for engines, quads, motorcycles, etc.), gas industry (pallets for cylinders, pallets for welding bundles), logistics (racks for big bags, steel euro pallets, specialised and transport pallets, racks for long elements, gutters, PVC profiles, etc.).
According to Sales Manager Marcin Smulski, 90% of Arcom's production is now exported, mostly to other European countries, but also to the Americas, the Middle East and Africa. "Undoubtedly, Europe as a whole is the most important export destination for us," he says, "but it is difficult to indicate a specific country. Both, large European economies (Germany, Great Britain, Spain, France) and those dynamically developing (Romania, Poland, Hungary etc.) constitute an important element.
"However," he added, "it should be noted that last year and pandemic caused a kind of reshuffle on the map of our shipments. The number of trucks shipped to some destinations has dropped drastically, but fortunately, there have also been brand new ones. The growing awareness of tyre storage and the benefits of using our products have also been of great importance. Thanks to this, the doors of warehouses in which pallets have not been used at all are opening for us."
Although the Arcom company has grown significantly over the years of its operation and gained a global reach, direct contact with customers is still a priority, according to Smulski. "That is why a qualified team of our managers takes care of geographically and linguistically divided markets. In some countries, we also have representative partners, but this never goes hand in hand with absolute exclusivity.
"In the UK market, for example, I do not mind reselling our pallets, especially since the costs of transporting smaller quantities are high. So, if there is a company that would like to reach smaller customers and start cooperation with us, we are open."
According to Smulski, Arcom has been particularly pleased with growing interest in the company's products among retreaders and would like to reach more customers in this segment. With that in mind, the company is promoting three key products to the industry.
The first of these is the AR 38 trolley, which is the company's most popular solution for retreaders and offers easy handling and quick access to the tyres. Flexible in use with different tyre diameters, Arcom's version of this type of product is also foldable, so storage of empty units and transport is very efficient. All models come equipped with TENTE wheels and can be either powder painted or galvanised.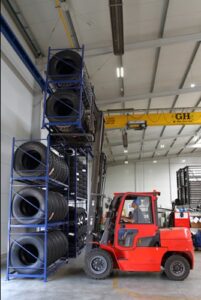 Key products for storing tyres include the AR10 and AR 01/6 racks. The former is intended for the storage and transport of truck and bus tyres, while the latter is suitable for all tyre types and has been specially designed for forklift transport. Both products can be stacked six units high to form a single rack and can be folded and stacked to maximise storage space. The racks are also equipped with a special locking mechanism that prevents the frames from folding up automatically. Additionally, the product dimensions are adapted to the width of semi-trailers, with special versions available for container transport.
According to Smulski, the difficulties posed by the pandemic as well as other issues such as Brexit, have posed some challenges, but maintains that the overall situation is better than expected. "As the vaccination process progresses, we will definitely want to return to more direct marketing by visiting our customers and their companies and participating in trade fairs," he explained. "I also hope that, as this year has already shown, we will be surprised by contacts from directions with which we have not traded yet.
"Currently, the availability and prices of the material are a huge challenge. As in previous years, through further investments in modern machines and solutions, we will reduce production costs to meet the enormous increases in the steel market.
"The last year was certainly one of the most difficult for us, 2021 also seems to be full of challenges. Despite the difficulties encountered, we have learned many experiences during the pandemic, which we are trying to translate into real benefits for us and our clients. And, of course, we also hope to maintain our leading position in the production of tyre pallets in Europe."