Australia's sole producer of pre-cured retread materials, Bandag, has marked an iconic milestone with its 60th anniversary of local manufacturing. According to Bridgestone Australia & New Zealand Managing Director, Heath Barclay, the milestone is significant for any business, let alone a manufacturing business, and is adamant that the future is bright for Bandag.
Key Milestone for Australia's Only Tread Producer
"Six decades of manufacturing is a huge achievement. This milestone celebrates the history of Bandag in Australia, but also points to the continued relevance retreads play in our market, and the role they play in Bridgestone's vision towards being a sustainable solutions provider," Barclay said.
"This milestone celebrates the achievements of every current and former employee of Bandag in Australia, and their commitment to producing quality pre-cured tread and retreads, continuous process improvement, and supporting trucking and bus fleets in reducing their environmental impact through more sustainable product choices. This commitment is the reason why Bandag continues as a strong Australian manufacturer today.
"We're proud to mark this occasion and look forward to celebrating many more milestones for Bandag and the role locally made retreads will play in our future."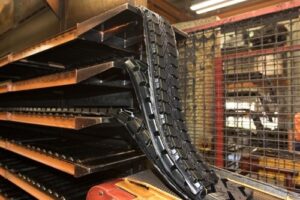 Bandag's Wacol plant is responsible for producing pre-cured tread for the eight company-run Bandag retread factories and 30 licensed dealers throughout Australia and New Zealand, and is also the primary producer for the Asia Pacific region, exporting to Thailand, Fiji, China, Korea and Indonesia, and a key part of the global supply chain for other Bridgestone regions, including America and Europe.
"Bandag punches well above its weight when we're compared to the challenges and headwinds manufacturing faces," said Bridgestone's General Manager of Retread Business, Greg Nielsen.
"Our success is down to our emphasis on quality and adoption of state-of-the-art equipment, ensuring we remain a viable solution for the local market. By focussing on quality, we've been able to stay competitive through ensuring that locally made Bandag retreads are comparable to the quality of new Bridgestone tyres."
The Bandag tread plant in Wacol is the last remaining tread production facility throughout Australia following the cessation of car tyre manufacturing back in 2009 and is a testament to the sustainable nature of retreading.
"As much as this milestone is about Bandag's heritage, it also highlights the role the company will play for the industry in the future, guided by the values of the recently launched Bridgestone E8 commitment, " Nielsen added.