During the IAA for Transportation, we had the opportunity to sit down with Goodyear and interview Marc Preedy, Managing Director Truck Replacement Sales Europe and Maciej Szymański, Director of Marketing Commercial Europe and discuss how retreading fits into their overall sustainability and fleet offer, but also the marketing strategies they are taking to dispel those long held myths about the process.
Preedy and Szymański Talk Retreading with Commercial Tyre Business
The main attraction on Goodyear's stand was the innovative demonstration truck tyre that was made with 63% sustainable content, which was conceived to underline the company's commitment to sustainability.
Maciej Szymański Europe explained, "You can see from the phrase 'rethinking retreading' on the walls of our stand that we have changed the way we talk about retreading. In the past there were pre-conceptions, and I don't think many people considered the sustainability aspect in their decision making, but now, if we look at the major fleets and tenders, it becomes an essential part of the ask. The fleet that wants to be sustainable needs to rethink retreading."
Marc Preedy expanded on this; "Sustainability will only continue to grow with waste issues, and as you can see with the investments in our retread factory in Riom, we have made a pretty hefty bet on how the game will play out. We are very much in on retreading."
Goodyear recently made a significant investment in their facilities in Riom over the last two years which has seen the manufacturer upgrade all of their machinery and enhance the flow of product in and out of the site. These investments have been made to improve the quality of Goodyear's overall solution and fleet offer as Preedy and Szymański explained.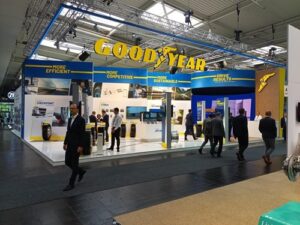 Preedy; "It isn't just about the unit price of a retread versus a Chinese import. All of the solutions that we offer cater for both new and retread tyres."
Szymański added; "We promote the overall package to fleet customers. I think for many years our industry has been talking about retreads as being as good as new, and this is part of the total package that we offer. The fleets that are convinced on retreading are convinced, and the ones that aren't convinced need to be convinced in a way.
"The sophistication of the fleet is also a key aspect as well as how advanced they are in terms of their TCO calculations. There is a lot of speculation rather than facts, and we dispel that with the solutions and the TCO calculator, which allow us to go to market successfully."
Goodyear have identified, though, that more and more fleets are asking about retreading in their initial briefings, which strikes a strong contrast to what they saw 10-15 years ago. This trend is undoubtedly good news for the manufacturer as it is ultimately in their interests for the casing to come back to them.
Preedy added; "We feel as though we are doing good by the customer with our TreadMax offer as we see our retread solution as an extension of the quality of our new tyre offer. In our view a robust new tyre means a robust retread."
The quality of the casings was a point that Maciej Szymański, the Director of Marketing Commercial Europe, expanded upon. Goodyear are continuously looking at the solutions being deployed with a fleet to ensure tyre health, as, with the correct maintenance, they can make sure that their tyres come out with a better quality for the next life. This aspect is so crucial for manufacturers as, ultimately, they need to fulfil their commitments to these fleet customers, and if the maintenance or the solutions within their offer are not up to standard then their products will not reach the mileage that they have promised to the customer.
It's interesting to note that as part of Goodyear's marketing initiatives to underline the quality of their casings, the manufacturer retreads each tyre used in the FIA European Truck Racing Championship following the same stringent testing and investigation that all Goodyear retreads go through. These retreads are then provided to fleets in the replacement market. On this initiative Szymański said, "That is our commitment to retreading and the trust in our products. This a key part of our commitment to sustainability, because you know with truck racing we want to make sure that this is an activity that is sustainable."