Last November UK retreader Vaculug became the first independent retreader in the world to commit to net zero carbon emissions by 2030.
Commitment to Net Zero by 2030
Last week, on September 13, we paid a visit to the company's headquarters in Grantham and spoke to CEO Haarjeev Kandhari and Managing Director Jorge Crespo, the day after the launch of Vaculug's first annual Sustainability Report, which provides an in-depth analysis of how the company is delivering a positive environmental impact in line with its ESG commitments.
The launch of the company's 55-page report is another first for the Grantham-based company, which has been at the forefront of innovation in the retreading sector since it was acquired by the Zenises Group in 2018. The growth in the importance of retreading in terms of the tyre industry's sustainability credentials is plain to see, and Haarjeev Kandhari articulates this perfectly in his foreword to the report; "We are committing to net zero across our business by 2030. The science is clear, we must make an impact in this decade, or it will be simply too late," he says.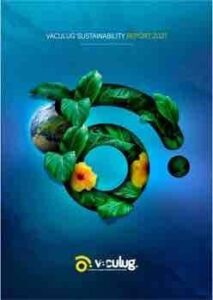 According to the Report, Vaculug's sustainability strategy incorporates three core commitments – to take a lead in the decarbonisation of retreading, to ensure that the company's people thrive at work by providing a safe and inspiring workplace, and to operate Vaculug based on responsible business practices.
Indeed, for Kandhari, sustainability is about more than making throwaway commitments to carbon neutrality. This, he says, is just "greenwashing." For him true sustainability should be viewed in the wider sense. Certainly, it's about respecting the planet, but it's also about supporting communities, enriching people's lives and fostering a family culture within the business. Of course, it also includes innovating products and services for customers as well as operating a profitable and responsible business, but overall, sustainability involves applying sustainable thinking to everyday business decisions across the board. "Sustaining communities is an important part of the DNA of our business," he says.
Vaculug's role as a leader in the tyre recycling sector is undisputed. The company processes 230,000 tyres a year, up 6.5% since the takeover in 2018 and is the first independent retreader in the world to sign up to the wider Tire Sector SDG Roadmap, led by the Tire Industry Project. The company also repurposes all its tyre waste via recycling partner Murfitts into a variety of products including artificial turf infill, rubber mulch used on children's playgrounds, carpet underlay and road surfaces.
However, additional activities aimed at creating a circular and sustainable business model including replacing all leased vehicles that have ended with new leases on hybrid vehicles, as well as installing a series of EV charging stations at the company's HQ in Grantham. According to the report, the aim is to have a full fleet of hybrid vehicles by 2024 and 8 charging stations by the end of 2022. The company has also initiated a programme to tracking water consumption in the business with the aim of reducing its use.
In terms of community activities Vaculug has fed more than 125,000 people in need through an annual event organised by the Zenises Foundation, funded over 100 scholarships and educational opportunities to youth in India, South Africa, Spain and the UK including 10 scholarships to Oxford University, and established of a mentorship programme that pairs students with executives across different organisations and sectors. The company has also pledged to donate £1 for every tyre sold to improve educational opportunities for children.
"We are very proud to launch our first Sustainability Report in 72 years," commented Kandhari. "This issue is front and centre of every decision we take at Vaculug. We are very thankful to our partners at Oxford and UCL who have helped us navigate this journey and helped us to set our carbon baseline. Throughout this process we have also developed a better understanding of our DNA as a company and more importantly our "Why". This is very clearly to improve the world for future generations through sustainable business practices."
The full Sustainability Report from Vaculug can be viewed here: